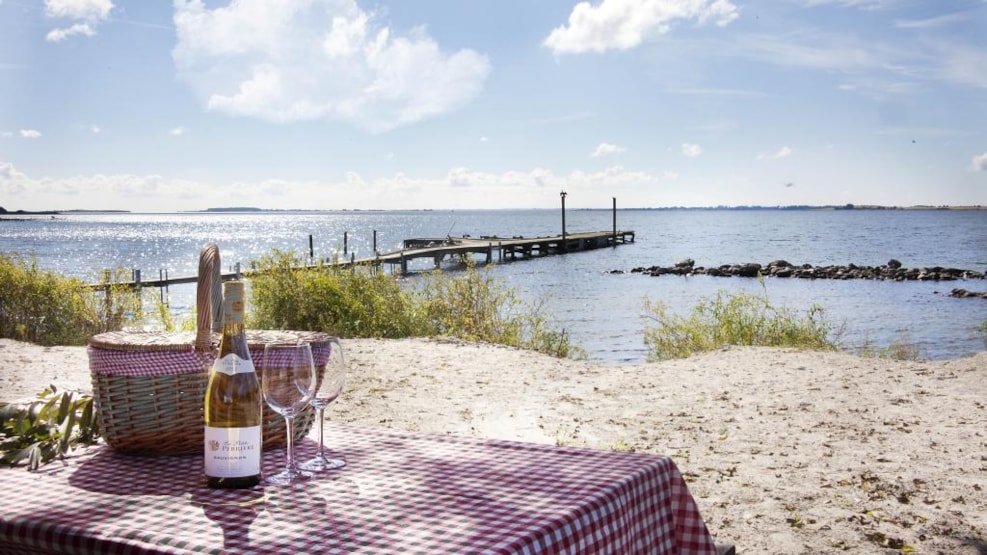 Green Experience
Hotel Faaborg Fjord
Hotel & Accommodation
Spend your holiday at Hotel Faaborg Fjord in the most beautiful surroundings of southern Funen with everything your heart desires. Enjoy the food, the wine, the spa area and the beautiful location in the middle of nature. Enjoy our forest in the backyard, beach in the front yard and the beautiful Svanninge hills and mountains only a few miles away.
Whether you are the active golf enthusiast, the adventurous nature lover, the diligent spa guest or you just love delicious food and good wine, we have something to offer. There are many reasons to book a stay with us and the joy of anticipation when going on holiday is an indispensable part of the experience.
Enjoy a visit to our new spa area, where you step into a world of experiences for your body and soul or create romantic "hygge" with wine on the beach or in the woods. Borrow one of our bikes and slide on a picnic in Svanninge hills and mountains or experience unique shopping in the old market town of Faaborg. The possibilities are endless and there are experiences for everyone regardless of age, physique and interests.
Restaurant Vinoteket's Nordic cuisine serves several course dinners with a focus on selected local and organic produce as well as a wide selection of wines. Our breakfast buffet abounds with surprises from our creative kitchen team.
Responsibility and care are key words in everything we do at Hotel Faaborg Fjord. Therefore, it is part of our daily routines to have a strong focus on being social and environmental responsible. We work actively to minimize our resource consumption and recycle as much as possible.
When staying at Hotel Faaborg Fjord you will enjoy a panoramic view of the beautiful South Funen archipelago and we guarantee amazing adventures on South Funen.
Hotel & Accommodation
★★★ according to the classification requirements
126 Double rooms and 2 suites, each with private balcony or terrace
Beds (256) Baby cots or extra guest bed is available upon request and payment
Chromecast TVs in rooms
Spa & Wellness - additional payment
Fitness
Petanque
12-hole Krolfbane
Private beach with jetty
Beach bar
Bicycles to borrow
Locked bicycle garage
Bar & Lounge areas
Restaurant
Forest, Campfire & 2 Shelters
Green Key
Free parking
4 Clever electric car charging stations
Wireless internet (fiber network)
Dog allowed - additional payment
Superior