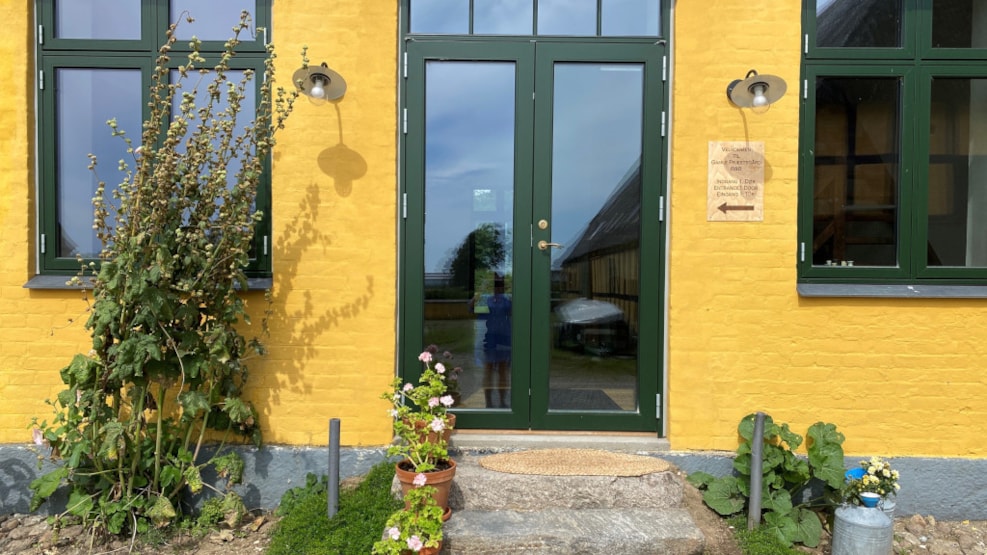 Gamle Præstegård
Welcome to Gamle Præstegård in Hågerup.
In our B&B you can enjoy a break from everyday life or drop in and sleep if you are attending events nearby. We have a lovely large garden with terraces bordering the river. Here you'll find peace and quiet, roosters crowing in the morning, birds whistling and if you take a walk down to the river, you'll hear them chuckling. It's just as it should be in the countryside: rural and cosy.
We are located approx. 14 km from both Fåborg and Ringe. The grocery store is just 4 km away, in Korinth.
We are an ideal place to stay if you are cycling or hiking, as the cycle path between Ringe and Korinth passes close to our house.

Rooms in our house
We have 3 rooms, which we have decorated in a slightly old and cosy style. We want our guests to be able to relax and we have taken great care in the choice of materials, both in relation to the renovation of the house, but also in relation to the interior design. The rooms have blackout curtains and good new beds for optimal sleep.
Common areas
Our property is completely renovated. However, we have chosen to keep the style a bit old-fashioned and therefore the common areas are furnished with older furniture from non-smoking homes.
A 3-person room - with the possibility of an extra bed, located on the ground floor, with access to the breakfast room. with 3 stationary beds and an extra bed that can be set up in case you come 4 people. There is a toilet and shower in this room. The room's windows face the courtyard. Price 950 kr.
A double room located on the 1st floor with a toilet and shower. The windows of the room face the garden and the gable of the house. Price 750 kr.
A double room without toilet and shower, located on the 1st floor. The toilet and shower are on the ground floor, so you have to go down the stairs to use them. As this is the only room without a toilet and shower, you will probably be the only guests using the bathroom, but other guests will have access to it as well. The room's window faces the garden. Price 650 kr.
Breakfast room
We have a breakfast room on the ground floor and a common room on the 1st floor.
We also have games and books that you can use while you are with us (it's on the 1st floor).
The garden and the river
We live in quiet surroundings and have a lovely vicarage garden with rhododendrons and large old trees.We have 2 terraces where you can enjoy a cup of coffee or breakfast. You can also take an undisturbed walk along the river.Here you can hear the babbling of the river and breathe without being seen from the garden.
Breakfast can be purchased for 85kr. per adult and 50kr. per child (up to 12 years)