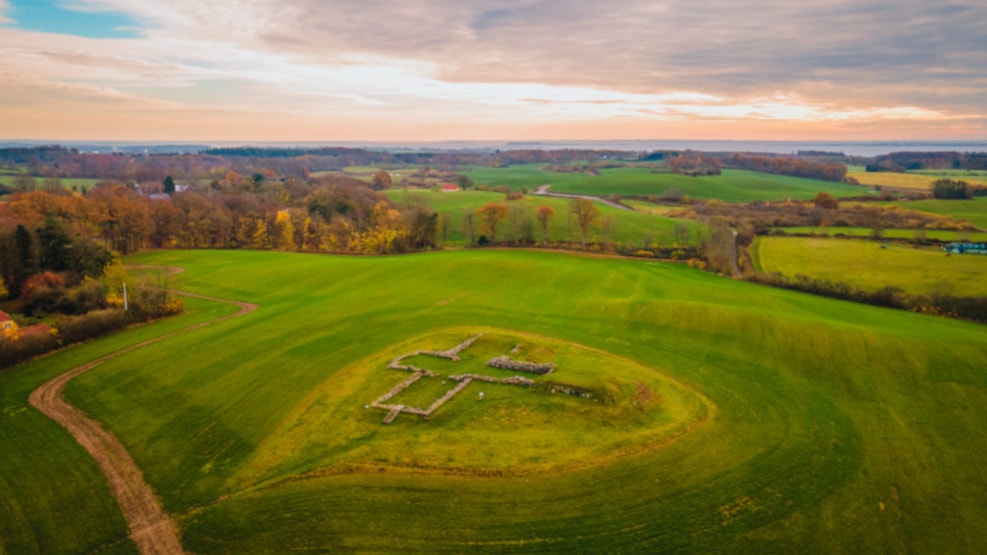 Finstrup Kirkeruin
Here once lay the village of Finstrup, with the parish church, parsonage and priest. The village was demolished over 300 years ago. The Funen Bishop Jacob Madsen, whose visitation book from 1588-1604 is an important historical document on the oldest history of the Funen churches. He thus includes information on 3 churches on South Funen - Hågerup, Fleninge and Finstrup, all as broken down. 100 years ago you could still see the remains of the town houses. The street "profit alley" west of the church hill probably belonged to the village. The church that today sees the ruins was built in the 1100s. It was closed down as early as the 14th century. The church ruin is excavated in 1870-71 and again in 1908 by the National Museum. The church was built in granite, however, some of the extensions were erected by red monks.

The church has had a ship and choir in one, with an internal target of 20 meters. In the choir stood the high altar. The choir's gable has a strange little expansion. Some believe that here has stood a bell. In Catholic churches, the bell calls people from the cemetery into the church and it is also used during the Mass.

To the west was a large tower, wider than the ship, and with a nearly square floor plan. Such towers are known only from Bornholm and Skåne. The tower has not been excavated. Two large extensions to the north and south have transformed the church into a cross-church. The baptismal font that stands in Diernæs Church, a Romanesque granite font of the Wing type, is believed to be from Finstrup Church. A legend tells that a gentleman had let a dog bury under the high altar at night - this profanation should then be the cause of the demolition of Finstrup Church.