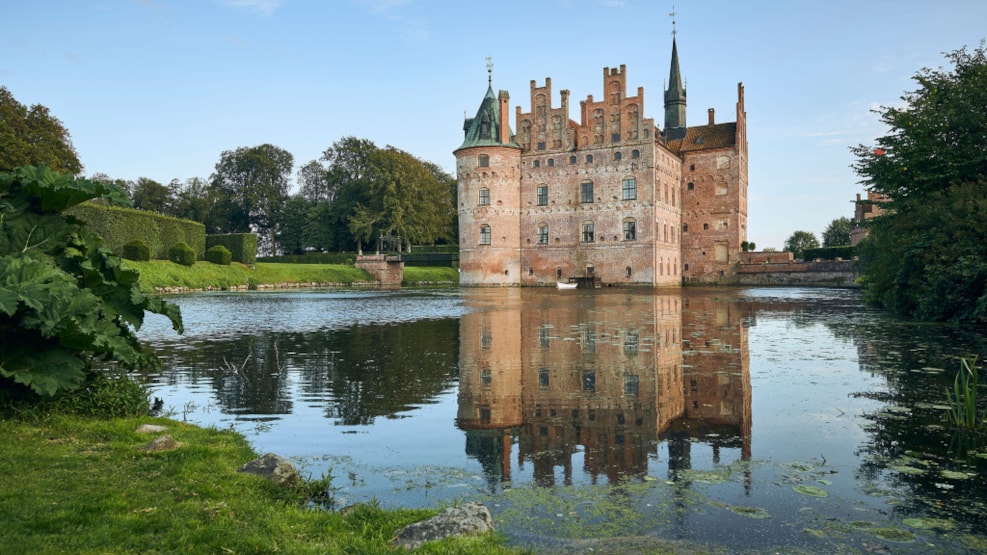 Egeskov - the most beautiful garden and Park
Egeskov - The Living Castle in Funen 
Egeskov is no ordinary castle – it is one of Europe's finest Renaissance buildings, featuring a real moat, spires, a knight's hall and ghastly creatures in its masonry.  You are more than welcome to take a look inside the castle! The family loves having guests at the castle, in the park, in the big PlayForest and at the many inspiring exhibitions in the castle's beautiful farm buildings. Take your family on fun excursions in the forest or scenic walks in the park, where you can explore the pristine gardens as the children enjoy themselves for hours. 
Egeskov is also a PlayForest, where children and youthful souls can enjoy themselves for hours – on the ground or up in the trees in Tree Top Walking. 
Plan a full-day visit to Egeskov's many interesting exhibits, featuring veteran cars, dolls, aeroplanes, historic dresses and roaring motorcycles. 
Get a close up look at the world's biggest and most wonderful dollhouse! A unique dream palace with more than 3000 pieces created for Titania, queen of the fairies, prince consort Oberon and their seven fairy children. 
Treat yourself to a visit in one of Europe's most beautiful historic gardens, which in 2012 received an honorary award from The European Garden Network. 
Egeskov is for the whole family. Europe's most impressive historic garden and the best preserved moat castle in Europe. Exhibitions satisfying everyone, and a playground that will take your breath away. A place for a great family day out! 
To find out much more and to buy tickets please visit www.egeskov.dk

"Egeskov Castle - 2018 TripAdvisor Cerificate of Exellence"

"European Garden Award 2012" and
"Best European historic garden 2012"

Nominated by CNN Travel as one of the 12 most spectacular gardens in the world.