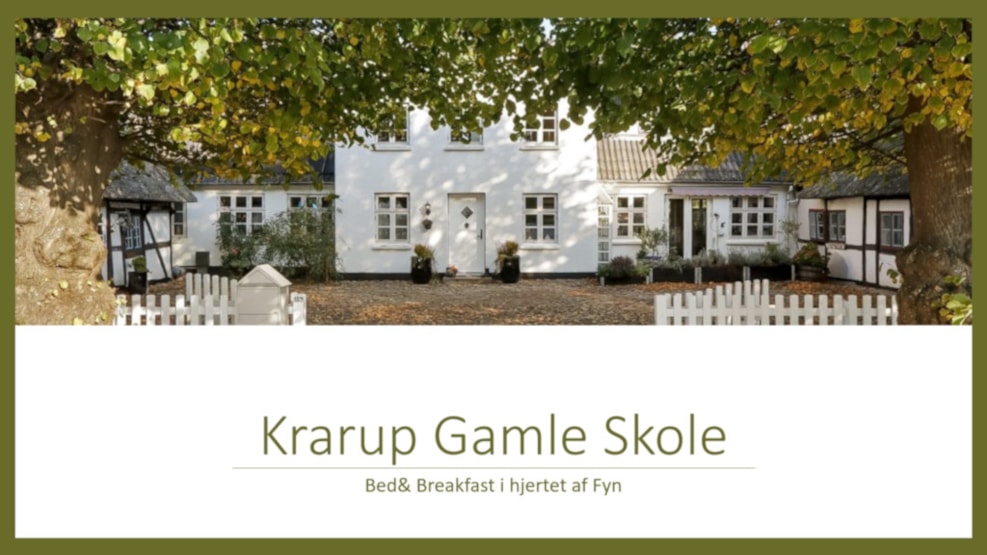 Den Gamle Krarup Skole
The Old Krarup School - Bed & Breakfast in the heart of Funen
The house is an old school building from 1805, and is located at the western foot of the gently sloping church hill in the lovely village of Krarup. We offer not only accommodation with breakfast, but also various events throughout the year and a small shop where you can buy seasonal goods from the naturally grown backyard. The house is surrounded by a cozy garden, which our guests are welcome to use, as well as play equipment for children. You are also welcome to feed our animals, collect eggs in the chicken coop and harvest fruits and vegetables.
The area is especially known for its many beautiful castles and manor houses (e.g. Egeskov Castle) and unique cultural landscape as well as the beautiful nature. To the south there is a large forest area with a fantastic lake landscape that invites you to a pleasant hiking, cycling or horseback riding.
The B&B's rooms were built in such a way that the charming style of the old school was preserved.
Room 1 "Library" (Double Room with 1 Bed 2x2m for Max. 2 People)
Room 2 "Schoolroom" (2 beds, each 1.60x2m for max. 4 people)
Shared kitchen "Wooden shoe walk"
Shared bathroom "Coke room"
Breakfast
A sweet and savoury breakfast in the form of a buffet is served at the desired time. The buffet consists of various homemade rolls, which are presented with cold cuts mix, cheese, honey, homemade jam and boiled eggs from our own small flock of chickens. There is also a selection of muesli with yogurt and fresh milk from the local farmhouse. In addition, there is always free coffee and tea and fresh fruit available in the kitchen. In the summer season, you may be lucky enough to get fresh organic strawberries from the garden. There is always the possibility of individual appointments, especially if you suffer from allergies or want to eat vegan/vegetarian diets.