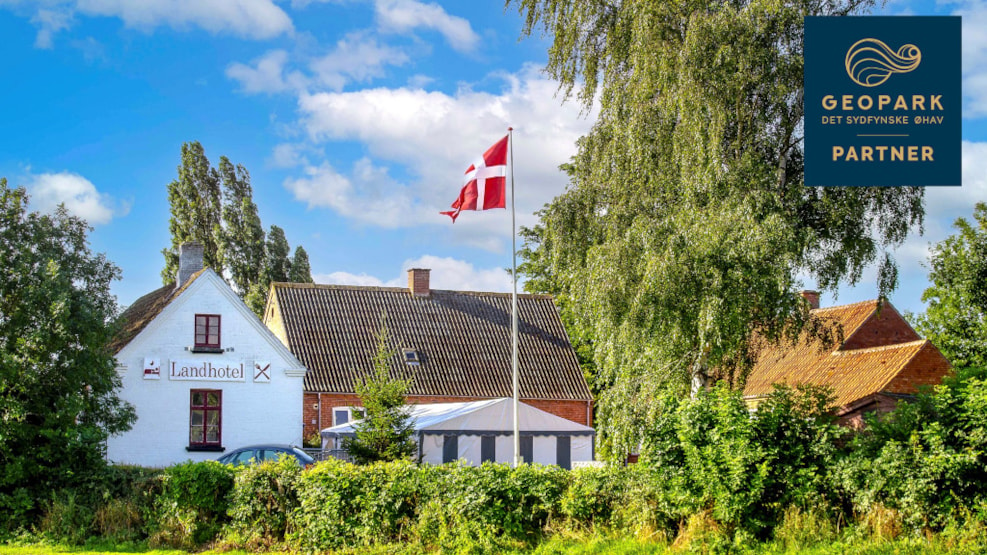 Avernakø Country Hotel
Avernakø Landhotel was established in 2009 in the abandoned school on the island. The hotel has 30 beds, a restaurant and a farm shop. The hotel is owned and run by Gitte Sørensen.

It all started in 2006 with the production of meat goats and a farm shop, where goat meat, skins and horn jewellery were the focus. Since then we have expanded with rabbit meat and skins, our own jams, juices and herbal salt etc. We are still developing and have, among other things, launched a fine salt shaker in goat horn, which, together with Gitte's sister's stoneware vessel, makes up the popular "Sister Set". Most recently, the shaving brush made of goat horn and badger hair has been launched. Furniture and sofa cushions covered in goatskin have also been made, and we always have cold-pressed soap with goat's claw in the farm shop.

Many people know Gitte as "Gitte Goat", as some years ago we had a very "goat" concept with extensive goat breeding. However, for a number of reasons we have stopped goat farming and have entered into a partnership with Grønnemosegård Geder, so that we can continue to sell the delicious goat meat and receive horns and skins for the production of the goods for the Farm Shop.
Sustainability
Sustainability is at the forefront here at the farm, as using everything from the animals for slaughter and the island's fruit, berries and herbs and doing it locally has become our trademark and our pride. Pride because in this way we help to promote ecology, optimal use of resources and support local jobs. All of this can of course be tasted in the restaurant and plays a big part in our productions and vision.

The concept
We have chosen to call our unconventional place a Country Hotel because we offer our guests rooms with made-up beds, towels for the bath and the possibility of full board during the stay. Our guests can expect a homely atmosphere with lots of cosiness and good home-made food. We are happy to share our knowledge of the island's attractions and island life in general, and to help plan cycling or walking tours of the island. The quiet and peaceful atmosphere of the place also invites contemplation and reflection, should you wish to seek this out.
The park of the country hotel is free to use with the possibility of serving close to the many, and different, animals of the garden in a quiet setting. There is always somewhere to find shade, sun or shelter. In the garden's bonfire hut you can make your own pancakes or snobrød or just enjoy the bonfire, but cooking food is not allowed.